Located on the East Coast of Southern Delaware
Just another day in paradise.
Located on Delaware's picturesque Indian River Bay, The Peninsula is the ideal place to begin any adventure. Whether you're looking for action or ready to relax, you'll find a long list of East Coast gems just beyond your door. Stay close to home and stroll on the Rehoboth boardwalk, take a bike ride along the canal in Lewes, or hop on the ferry to Cape May. When you're ready to venture farther, an exciting getaway to New York, Philadelphia or Washington D.C. is just a few hours away.
Sussex County: Legendary roots.
When you live at The Peninsula, legendary local ambiance is part of everyday life. Dating back to 1631, Sussex County is where much of Delaware's rich history begins. As the state's largest county, Sussex has a diverse culture and welcoming atmosphere with beautiful beaches, tax-free shopping and delicious dining. The county is home to some of the East Coast's most sought-after resort destinations, including Rehoboth Beach, Lewes, and Dewey Beach.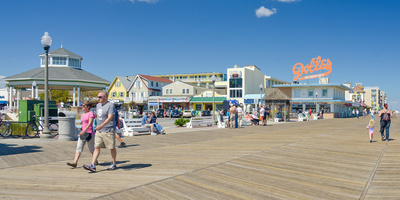 Rehoboth Beach: Beloved seaside destination.
Known as the "Nation's Summer Capital," Rehoboth is a beloved seaside location that has maintained its genuine small town character. Its mile-long boardwalk is as loyal as a longtime friend. Come for an early morning jog, a midday shopping spree, or an evening stroll. The boardwalk has something for everyone, any time of the day or evening, through all the seasons. When you're not walking, jogging, riding your bike, or sunning near the picturesque beach, you'll find plenty of activities to keep you busy. Play a round of miniature golf, spend some time in the arcades and amusement park, or relax and listen to lively music at the Pavilion. Browse the shops and galleries before enjoying the meal of your choice. Rehoboth offers everything from world famous French fries to ultra fine dining.
There is much more to Rehoboth Beach than summer activities. Throughout the year, the town plays host to a variety of festivals, including the Autumn Jazz Fest, an Independent Film Festival, the Sea Witch Halloween & Fiddlers Festival, a traditional Hometown Christmas Parade, and the Chocolate Festival. Imagine that--a whole event, devoted to chocolate!
Lewes: Historic charm. Natural beauty.
Lewes is perched in that sweet spot where the Delaware Bay and the Atlantic Ocean meet at Cape Henlopen. You'll find bayfront beaches and ocean wonderlands that are perfect for swimming, picnicking, and all types of fishing or boating pleasures. With over 4,000 acres of preserved lands in Cape Henlopen State Park, it's overflowing with beautiful beaches, miles of nature trails, bird sanctuaries and an education center. There's even a frisbee golf course set among spectacular dunes.
After a day at the beach, head into town where you'll discover a variety of fun, all within a half-mile square. Lewes is a walking town, so be sure to visit the historic district, with beautifully preserved homes, quaint museums, and over 40 full-service shops and boutiques. Lewes has festivals that celebrate kites, tulips, and everything in between. Want to relax and settle in for a while? You'll find a variety of restaurants and pubs where you can enjoy a fantastic meal or a lively evening with friends. Lewes is a year-round community with fun-filled days, enchanting nights, historic views and natural beauty everywhere you look.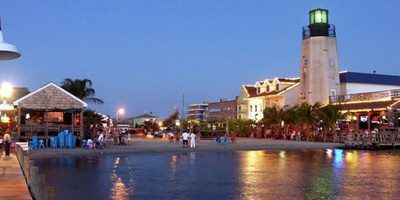 Dewey Beach: Uptempo and fun.
Dewey Beach is ideally located between the Atlantic Ocean and Rehoboth Bay, so the water is never more than a minute away. You can watch the sun rise over the ocean and see it set on the bay. Best of all, packing for a trip to Dewey is easy. Just toss in some shorts, a bathing suit and flip-flops, and you're on your way! The beach at Dewey was one of just four coastlines in the U.S. to achieve Superstar Beach Status from the Natural Resources Defense Council, as announced in June, 2011.
Looking for something to do? Start the day with some windsurfing or paddleboarding before creating some sunset memories of your own. Relax over dinner and margaritas at Que Pasa while you watch the sunset with your toes in the sand. Later, Dewey gets rolling just when some of the other towns are winding down, with top-rated musicians and lively clubs. Find out why the Bottle and Cork is known as the greatest rock and roll bar in the world. Enjoy orange crushes and Bloody Marys at the Starboard and return to share the night's best stories over a memorable Sunday brunch.